Videos
See Mario in action in the latest trailers, gameplay videos, and more.
Let's watch!
"...a true masterpiece."
"...the most gorgeous Mario game ever."

Mario & Cappy
Embark on an all-new adventure with Mario and his new pal, Cappy.
Meet Cappy!
"...an absolute delight..."
CLICK and DRAG

Activities
Looking to capture the perfect Mario moment? Try out these downloads for some fantastic photo fun!
Check it out!
amiibo
Some fancy new amiibo have arrived on the scene, and it looks like they're dressed for a wedding?!
Show me!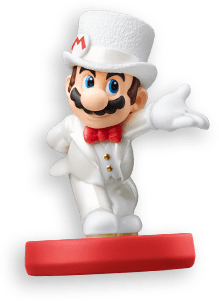 "...a brilliant adventure..."
Tour
Learn about Mario's coast-to-coast tour across the U.S.!
Hit the road. Explore the Kingdoms
Head off to incredible destinations far from the Mushroom Kingdom on a massive, globe-trotting escapade.
See the sites!
"...a constant delight to play."

Buy Now
Ready to play? Buy the Super Mario Odyssey game now!
Let's-a-go!
"...the greatest Super Mario title released to-date..."